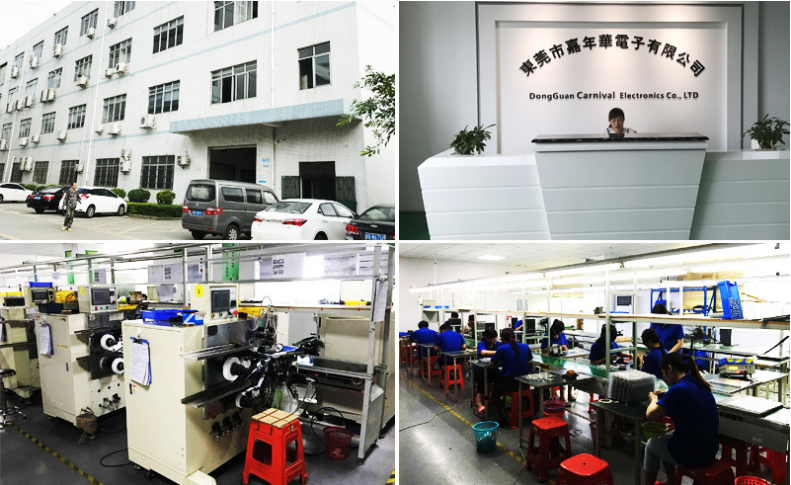 Guangdong Carnival Company owns: Shenzhen Carnival Power Supply Co., Ltd. and Dongguan Carnival Electronics Co., Ltd. Since its establishment in 2012, it has been devoted to the research and development, manufacture and sales of power supply fields such as polymer battery products. It has a whole industrial chain system from cell manufacturing to PACK.
The company is located in Haiketai Industrial Park, Keyuan, Tangxia Town, Dongguan City. It is 30 minutes'drive from Shenzhen Center and Airport with convenient transportation. The building area of the company is 2000㎡, with more than 200 employees,more than 30% of staff with college or higher education. The company has a strong technical force,It produces 100,000 batteries a day currently, and the company has the right of import and export independently. Products are mainly exported, and the main markets are concentrated in the United States, Europe, Japan and other countries or regions. They are OEM/ODM manufacturers of many well-known international brands.
In the field of sports cameras, it is in the top three supply chain levels, The strict standard is consistently enforced since we Obtained the iso9001:2000 certification. All our products have passed CE certification, UL certification and RoHS certification. The company actively cultivates excellent R&D talents, strive to expand OEM, ODM and after-sales market business, establishes and maintains strategic alliances with suppliers and customers, and promotes customer value through integration of supply chains. In addition to the self-improvement of production technology, innovation and breakthroughs are constantly pursued in factory management and marketing channels. In order to seek the core competitiveness of product innovation and sustainable operation.
Quality is the key factor to establish competitive advantage, and also the key to attract new customers and retain old customers. Quality guides us to make continuous improvement and pursue the goal of high quality.
For the green earth and the future of humanity, the company is always committed to environmental protection and sustainable development strategy, to protect our precious earth resources and human health and safety, while focusing on product quality, the company is committed to environmental protection in return for society.
The core concept of JNH carnival company is "high-quality products and services for your wonderful life"
Carnival enterprise culture

Vision: we are committed to provide quality power supply solutions to consumers around the world.
Continuously improve the internal management level, become a high-quality power supplier within five years, and serve the multi-level consumer market;

Mission: relying on excellent human resources to explore the full potential of individuals and teams, market-oriented, quality-oriented, service-oriented, and adopting the mode of integrating core partners with modern shareholding system to serve the mass consumer market.

Concept: to be honest and realistic;

Values: innovation-driven, dedicated quality products, Innovation drives the market.

Carnival your ideal partner!